"Hartverwarmend, creatief tot in de kleinste details en onweerstaanbaar grappig."
NRC
Bekijk onze voorstellingen
body { background: #896000; } .header__logo svg:last-child, .search__toggle, .navigation__toggle, .fs__toggle { background: #fff; color: #896000; } .header__scrolltop { color: #896000; } .no-touch .header__logo svg:first-child:hover { color: #00b7ae; } .no-touch .header__logo svg:last-child:hover, .no-touch .header__options button:hover, .no-touch .header__scrolltop:hover { background: #00b7ae; color: #f9ac80; } .navigation .wrap:before { background: #f9ac80; } .navigation__item--is-ancestor, .navigation__item--is-current, .no-touch .navigation__link:hover { color: #00b7ae; } .has-open-navigation .header__logo svg:first-child { color: #00b7ae; } .has-open-navigation .header__logo svg:last-child, .has-open-navigation .search__toggle, .has-open-navigation .navigation__toggle, .has-open-navigation .fs__toggle { background: #00b7ae; color: #f9ac80; } .has-open-navigation .header__scrolltop { background: #f9ac80; color: #00b7ae; } .search__input { color: #896000; } .search__options button { background: #896000; } .title h1 span { color: #00b7ae; } .agenda__filter { background: #f9ac80; } .content__aside__header { color: #00b7ae; } .review__header { color: #00b7ae; } .no-touch .agenda__filter:hover, .agenda__filter.is-active { background: #701d13; } .agenda__item--is-default div:nth-child(odd) { color: #701d13; } .agenda__item--is-default div:nth-child(even) { background: #701d13; } .agenda__item--is-school div:nth-child(odd) { color: #701d13; } .agenda__item--is-school div:nth-child(even) { background: #00b7ae; color: #701d13; } .agenda__item__link { background: #701d13; } .carousel__title, .carousel__content { color: #00b7ae; } .carousel__content--is-link { background: #701d13; }} .carousel__content--is-link ~ .carousel__media:after { background: linear-gradient(-180deg, rgba(137, 96, 0, 0.4) 0%, transparent 100%); } .carousel__cta__link { background: #00b7ae; color: #896000; } .carousel__dot { background: #f9ac80; } .carousel__dot.is-current { background: #00b7ae; } .carousel__button svg { color: #896000; } .carousel__media__controls { color: #896000; } .gallery--is-modal { background: #896000; } .gallery__prev, .gallery__next, .gallery__close { background: #00b7ae; color: #896000; } .media__link { color: #896000; } .quotes__item { color: #00b7ae; } .quotes__prev, .quotes__next { background: #00b7ae; color: #896000; } .accordion__item { background: #701d13; } .accordion__link { background: #00b7ae; color: #896000; } .accordion__header__icon { color: #701d13; } .accordion__partners__card { background: #f9ac80; } .has-markup h1 strong, .has-markup h1 em, .has-markup h2, .has-markup h3, .has-markup h4, .has-markup h1:first-child + p strong:only-child, .has-markup blockquote, .has-markup cite, .has-markup label, .has-markup button, .has-markup mark, .has-markup a { color: #00b7ae; } .cards__archive { color: #00b7ae; } .form input, .form input::placeholder { color: #701d13; } .play { color: #896000; } .footer { background: #701d13; } .no-touch .footer__item a:hover { color: #00b7ae; } .header--with-partner .header__logo svg:last-child { background: #00b7ae; } .project h2 span, .project__content h3 { color: #00b7ae; } .project label svg { color: #896000; } .project label a { color: #00b7ae; } .project .buttons button, .project .buttons .button { color: #00b7ae; } .project .buttons button svg, .project .buttons .button svg { background: #00b7ae; color: #896000; } .project .buttons button.to-prev { color: #f9ac80; } .project .buttons button.to-prev svg { background: #f9ac80; } .project .buttons button.to-prev--next { color: #00b7ae; } .project .buttons button.to-prev--next svg { background: #00b7ae; } .project__prev { background: #00b7ae; color: #896000; } .project__next { background: #FFFF6B; color: #896000; } .project__to { background: #425347; color: #896000; } .project__prev svg { background: #896000; color: #00b7ae; } .project__next svg { background: #896000; color: #FFFF6B; } .project__options { color: #00b7ae; } .rsbtn_hhh_skin { color: #896000 !important; } .rs-player-loadindicator { background: #896000; } .rsbtn-progress { background: #00b7ae; } .sync_sent_highlighted { background: #fff !important; color: #896000 !important; } .sync_word_highlighted { background: #00b7ae !important; color: #896000 !important; } .rsbtn_play .rsicn, .rspaused .rsbtn_pause .rsicn { background-image: url("data:image/svg+xml,%3Csvg xmlns='http://www.w3.org/2000/svg' viewBox='0 0 512 512'%3E%3Cpath fill='%23896000' d='M256 8C119 8 8 119 8 256s111 248 248 248 248-111 248-248S393 8 256 8zm115.7 272-176 101c-15.8 8.8-35.7-2.5-35.7-21V152c0-18.4 19.8-29.8 35.7-21l176 107c16.4 9.2 16.4 32.9 0 42z'/%3E%3C/svg%3E"); } .rsbtn_pause .rsicn, .rsplaying .rsbtn_play .rsicn, .rsplaying .rsbtn_pause .rsicn { background-image: url("data:image/svg+xml,%3Csvg xmlns='http://www.w3.org/2000/svg' viewBox='0 0 512 512'%3E%3Cpath fill='%23896000' d='M256 8C119 8 8 119 8 256s111 248 248 248 248-111 248-248S393 8 256 8zm-16 328c0 8.8-7.2 16-16 16h-48c-8.8 0-16-7.2-16-16V176c0-8.8 7.2-16 16-16h48c8.8 0 16 7.2 16 16v160zm112 0c0 8.8-7.2 16-16 16h-48c-8.8 0-16-7.2-16-16V176c0-8.8 7.2-16 16-16h48c8.8 0 16 7.2 16 16v160z'/%3E%3C/svg%3E"); } .rsbtn_closer .rsicn { background-image: url("data:image/svg+xml,%3Csvg xmlns='http://www.w3.org/2000/svg' viewBox='0 0 512 512'%3E%3Cpath fill='%23896000' d='M256 8C119 8 8 119 8 256s111 248 248 248 248-111 248-248S393 8 256 8zm121.6 313.1c4.7 4.7 4.7 12.3 0 17L338 377.6c-4.7 4.7-12.3 4.7-17 0L256 312l-65.1 65.6c-4.7 4.7-12.3 4.7-17 0L134.4 338c-4.7-4.7-4.7-12.3 0-17l65.6-65-65.6-65.1c-4.7-4.7-4.7-12.3 0-17l39.6-39.6c4.7-4.7 12.3-4.7 17 0l65 65.7 65.1-65.6c4.7-4.7 12.3-4.7 17 0l39.6 39.6c4.7 4.7 4.7 12.3 0 17L312 256l65.6 65.1z'/%3E%3C/svg%3E"); }
Winnaar van twee Zilveren Krekels
Lees meer
IK… eh ik
body { background: #778057; } .header__logo svg:last-child, .search__toggle, .navigation__toggle, .fs__toggle { background: #fff; color: #778057; } .header__scrolltop { color: #778057; } .no-touch .header__logo svg:first-child:hover { color: #f9a21a; } .no-touch .header__logo svg:last-child:hover, .no-touch .header__options button:hover, .no-touch .header__scrolltop:hover { background: #f9a21a; color: #5c6a47; } .navigation .wrap:before { background: #5c6a47; } .navigation__item--is-ancestor, .navigation__item--is-current, .no-touch .navigation__link:hover { color: #f9a21a; } .has-open-navigation .header__logo svg:first-child { color: #f9a21a; } .has-open-navigation .header__logo svg:last-child, .has-open-navigation .search__toggle, .has-open-navigation .navigation__toggle, .has-open-navigation .fs__toggle { background: #f9a21a; color: #5c6a47; } .has-open-navigation .header__scrolltop { background: #5c6a47; color: #f9a21a; } .search__input { color: #778057; } .search__options button { background: #778057; } .title h1 span { color: #f9a21a; } .agenda__filter { background: #5c6a47; } .content__aside__header { color: #f9a21a; } .review__header { color: #f9a21a; } .no-touch .agenda__filter:hover, .agenda__filter.is-active { background: #1f3128; } .agenda__item--is-default div:nth-child(odd) { color: #1f3128; } .agenda__item--is-default div:nth-child(even) { background: #1f3128; } .agenda__item--is-school div:nth-child(odd) { color: #1f3128; } .agenda__item--is-school div:nth-child(even) { background: #f9a21a; color: #1f3128; } .agenda__item__link { background: #1f3128; } .carousel__title, .carousel__content { color: #f9a21a; } .carousel__content--is-link { background: #1f3128; }} .carousel__content--is-link ~ .carousel__media:after { background: linear-gradient(-180deg, rgba(119, 128, 87, 0.4) 0%, transparent 100%); } .carousel__cta__link { background: #f9a21a; color: #778057; } .carousel__dot { background: #5c6a47; } .carousel__dot.is-current { background: #f9a21a; } .carousel__button svg { color: #778057; } .carousel__media__controls { color: #778057; } .gallery--is-modal { background: #778057; } .gallery__prev, .gallery__next, .gallery__close { background: #f9a21a; color: #778057; } .media__link { color: #778057; } .quotes__item { color: #f9a21a; } .quotes__prev, .quotes__next { background: #f9a21a; color: #778057; } .accordion__item { background: #1f3128; } .accordion__link { background: #f9a21a; color: #778057; } .accordion__header__icon { color: #1f3128; } .accordion__partners__card { background: #5c6a47; } .has-markup h1 strong, .has-markup h1 em, .has-markup h2, .has-markup h3, .has-markup h4, .has-markup h1:first-child + p strong:only-child, .has-markup blockquote, .has-markup cite, .has-markup label, .has-markup button, .has-markup mark, .has-markup a { color: #f9a21a; } .cards__archive { color: #f9a21a; } .form input, .form input::placeholder { color: #1f3128; } .play { color: #778057; } .footer { background: #1f3128; } .no-touch .footer__item a:hover { color: #f9a21a; } .header--with-partner .header__logo svg:last-child { background: #f9a21a; } .project h2 span, .project__content h3 { color: #f9a21a; } .project label svg { color: #778057; } .project label a { color: #f9a21a; } .project .buttons button, .project .buttons .button { color: #f9a21a; } .project .buttons button svg, .project .buttons .button svg { background: #f9a21a; color: #778057; } .project .buttons button.to-prev { color: #5c6a47; } .project .buttons button.to-prev svg { background: #5c6a47; } .project .buttons button.to-prev--next { color: #f9a21a; } .project .buttons button.to-prev--next svg { background: #f9a21a; } .project__prev { background: #f9a21a; color: #778057; } .project__next { background: #FFFF6B; color: #778057; } .project__to { background: #425347; color: #778057; } .project__prev svg { background: #778057; color: #f9a21a; } .project__next svg { background: #778057; color: #FFFF6B; } .project__options { color: #f9a21a; } .rsbtn_hhh_skin { color: #778057 !important; } .rs-player-loadindicator { background: #778057; } .rsbtn-progress { background: #f9a21a; } .sync_sent_highlighted { background: #fff !important; color: #778057 !important; } .sync_word_highlighted { background: #f9a21a !important; color: #778057 !important; } .rsbtn_play .rsicn, .rspaused .rsbtn_pause .rsicn { background-image: url("data:image/svg+xml,%3Csvg xmlns='http://www.w3.org/2000/svg' viewBox='0 0 512 512'%3E%3Cpath fill='%23778057' d='M256 8C119 8 8 119 8 256s111 248 248 248 248-111 248-248S393 8 256 8zm115.7 272-176 101c-15.8 8.8-35.7-2.5-35.7-21V152c0-18.4 19.8-29.8 35.7-21l176 107c16.4 9.2 16.4 32.9 0 42z'/%3E%3C/svg%3E"); } .rsbtn_pause .rsicn, .rsplaying .rsbtn_play .rsicn, .rsplaying .rsbtn_pause .rsicn { background-image: url("data:image/svg+xml,%3Csvg xmlns='http://www.w3.org/2000/svg' viewBox='0 0 512 512'%3E%3Cpath fill='%23778057' d='M256 8C119 8 8 119 8 256s111 248 248 248 248-111 248-248S393 8 256 8zm-16 328c0 8.8-7.2 16-16 16h-48c-8.8 0-16-7.2-16-16V176c0-8.8 7.2-16 16-16h48c8.8 0 16 7.2 16 16v160zm112 0c0 8.8-7.2 16-16 16h-48c-8.8 0-16-7.2-16-16V176c0-8.8 7.2-16 16-16h48c8.8 0 16 7.2 16 16v160z'/%3E%3C/svg%3E"); } .rsbtn_closer .rsicn { background-image: url("data:image/svg+xml,%3Csvg xmlns='http://www.w3.org/2000/svg' viewBox='0 0 512 512'%3E%3Cpath fill='%23778057' d='M256 8C119 8 8 119 8 256s111 248 248 248 248-111 248-248S393 8 256 8zm121.6 313.1c4.7 4.7 4.7 12.3 0 17L338 377.6c-4.7 4.7-12.3 4.7-17 0L256 312l-65.1 65.6c-4.7 4.7-12.3 4.7-17 0L134.4 338c-4.7-4.7-4.7-12.3 0-17l65.6-65-65.6-65.1c-4.7-4.7-4.7-12.3 0-17l39.6-39.6c4.7-4.7 12.3-4.7 17 0l65 65.7 65.1-65.6c4.7-4.7 12.3-4.7 17 0l39.6 39.6c4.7 4.7 4.7 12.3 0 17L312 256l65.6 65.1z'/%3E%3C/svg%3E"); }
"Een voorstelling die zo bizar goed is, dat je hem wel aan iedereen zou willen aanraden."
Volkskrant
Bekijk onze voorstellingen
body { background: #196e97; } .header__logo svg:last-child, .search__toggle, .navigation__toggle, .fs__toggle { background: #fff; color: #196e97; } .header__scrolltop { color: #196e97; } .no-touch .header__logo svg:first-child:hover { color: #00ff8e; } .no-touch .header__logo svg:last-child:hover, .no-touch .header__options button:hover, .no-touch .header__scrolltop:hover { background: #00ff8e; color: #176270; } .navigation .wrap:before { background: #176270; } .navigation__item--is-ancestor, .navigation__item--is-current, .no-touch .navigation__link:hover { color: #00ff8e; } .has-open-navigation .header__logo svg:first-child { color: #00ff8e; } .has-open-navigation .header__logo svg:last-child, .has-open-navigation .search__toggle, .has-open-navigation .navigation__toggle, .has-open-navigation .fs__toggle { background: #00ff8e; color: #176270; } .has-open-navigation .header__scrolltop { background: #176270; color: #00ff8e; } .search__input { color: #196e97; } .search__options button { background: #196e97; } .title h1 span { color: #00ff8e; } .agenda__filter { background: #176270; } .content__aside__header { color: #00ff8e; } .review__header { color: #00ff8e; } .no-touch .agenda__filter:hover, .agenda__filter.is-active { background: #003143; } .agenda__item--is-default div:nth-child(odd) { color: #003143; } .agenda__item--is-default div:nth-child(even) { background: #003143; } .agenda__item--is-school div:nth-child(odd) { color: #003143; } .agenda__item--is-school div:nth-child(even) { background: #00ff8e; color: #003143; } .agenda__item__link { background: #003143; } .carousel__title, .carousel__content { color: #00ff8e; } .carousel__content--is-link { background: #003143; }} .carousel__content--is-link ~ .carousel__media:after { background: linear-gradient(-180deg, rgba(25, 110, 151, 0.4) 0%, transparent 100%); } .carousel__cta__link { background: #00ff8e; color: #196e97; } .carousel__dot { background: #176270; } .carousel__dot.is-current { background: #00ff8e; } .carousel__button svg { color: #196e97; } .carousel__media__controls { color: #196e97; } .gallery--is-modal { background: #196e97; } .gallery__prev, .gallery__next, .gallery__close { background: #00ff8e; color: #196e97; } .media__link { color: #196e97; } .quotes__item { color: #00ff8e; } .quotes__prev, .quotes__next { background: #00ff8e; color: #196e97; } .accordion__item { background: #003143; } .accordion__link { background: #00ff8e; color: #196e97; } .accordion__header__icon { color: #003143; } .accordion__partners__card { background: #176270; } .has-markup h1 strong, .has-markup h1 em, .has-markup h2, .has-markup h3, .has-markup h4, .has-markup h1:first-child + p strong:only-child, .has-markup blockquote, .has-markup cite, .has-markup label, .has-markup button, .has-markup mark, .has-markup a { color: #00ff8e; } .cards__archive { color: #00ff8e; } .form input, .form input::placeholder { color: #003143; } .play { color: #196e97; } .footer { background: #003143; } .no-touch .footer__item a:hover { color: #00ff8e; } .header--with-partner .header__logo svg:last-child { background: #00ff8e; } .project h2 span, .project__content h3 { color: #00ff8e; } .project label svg { color: #196e97; } .project label a { color: #00ff8e; } .project .buttons button, .project .buttons .button { color: #00ff8e; } .project .buttons button svg, .project .buttons .button svg { background: #00ff8e; color: #196e97; } .project .buttons button.to-prev { color: #176270; } .project .buttons button.to-prev svg { background: #176270; } .project .buttons button.to-prev--next { color: #00ff8e; } .project .buttons button.to-prev--next svg { background: #00ff8e; } .project__prev { background: #00ff8e; color: #196e97; } .project__next { background: #FFFF6B; color: #196e97; } .project__to { background: #425347; color: #196e97; } .project__prev svg { background: #196e97; color: #00ff8e; } .project__next svg { background: #196e97; color: #FFFF6B; } .project__options { color: #00ff8e; } .rsbtn_hhh_skin { color: #196e97 !important; } .rs-player-loadindicator { background: #196e97; } .rsbtn-progress { background: #00ff8e; } .sync_sent_highlighted { background: #fff !important; color: #196e97 !important; } .sync_word_highlighted { background: #00ff8e !important; color: #196e97 !important; } .rsbtn_play .rsicn, .rspaused .rsbtn_pause .rsicn { background-image: url("data:image/svg+xml,%3Csvg xmlns='http://www.w3.org/2000/svg' viewBox='0 0 512 512'%3E%3Cpath fill='%23196e97' d='M256 8C119 8 8 119 8 256s111 248 248 248 248-111 248-248S393 8 256 8zm115.7 272-176 101c-15.8 8.8-35.7-2.5-35.7-21V152c0-18.4 19.8-29.8 35.7-21l176 107c16.4 9.2 16.4 32.9 0 42z'/%3E%3C/svg%3E"); } .rsbtn_pause .rsicn, .rsplaying .rsbtn_play .rsicn, .rsplaying .rsbtn_pause .rsicn { background-image: url("data:image/svg+xml,%3Csvg xmlns='http://www.w3.org/2000/svg' viewBox='0 0 512 512'%3E%3Cpath fill='%23196e97' d='M256 8C119 8 8 119 8 256s111 248 248 248 248-111 248-248S393 8 256 8zm-16 328c0 8.8-7.2 16-16 16h-48c-8.8 0-16-7.2-16-16V176c0-8.8 7.2-16 16-16h48c8.8 0 16 7.2 16 16v160zm112 0c0 8.8-7.2 16-16 16h-48c-8.8 0-16-7.2-16-16V176c0-8.8 7.2-16 16-16h48c8.8 0 16 7.2 16 16v160z'/%3E%3C/svg%3E"); } .rsbtn_closer .rsicn { background-image: url("data:image/svg+xml,%3Csvg xmlns='http://www.w3.org/2000/svg' viewBox='0 0 512 512'%3E%3Cpath fill='%23196e97' d='M256 8C119 8 8 119 8 256s111 248 248 248 248-111 248-248S393 8 256 8zm121.6 313.1c4.7 4.7 4.7 12.3 0 17L338 377.6c-4.7 4.7-12.3 4.7-17 0L256 312l-65.1 65.6c-4.7 4.7-12.3 4.7-17 0L134.4 338c-4.7-4.7-4.7-12.3 0-17l65.6-65-65.6-65.1c-4.7-4.7-4.7-12.3 0-17l39.6-39.6c4.7-4.7 12.3-4.7 17 0l65 65.7 65.1-65.6c4.7-4.7 12.3-4.7 17 0l39.6 39.6c4.7 4.7 4.7 12.3 0 17L312 256l65.6 65.1z'/%3E%3C/svg%3E"); }
Wauwiedepauwie!
luister de podcast

Wauwiedepauwie!
Het Houten Huis staat al 10 jaar in Groningen!
In die tijd hebben we onder andere:
1847 voorstellingen gespeeld, 197.792 bezoekers verwelkomd, 25 nieuwe (co)producties gemaakt, 46 Houten Huis in de Klas bomen gezaagd, ontelbaar veel filosofische vragen gesteld, voor 114.635 leerlingen gespeeld, 83 recensies ontvangen, 6 prijzen gewonnen én 1 podcast gemaakt…
Tekenfilm Zonder Beeld
Kijken met je hoofd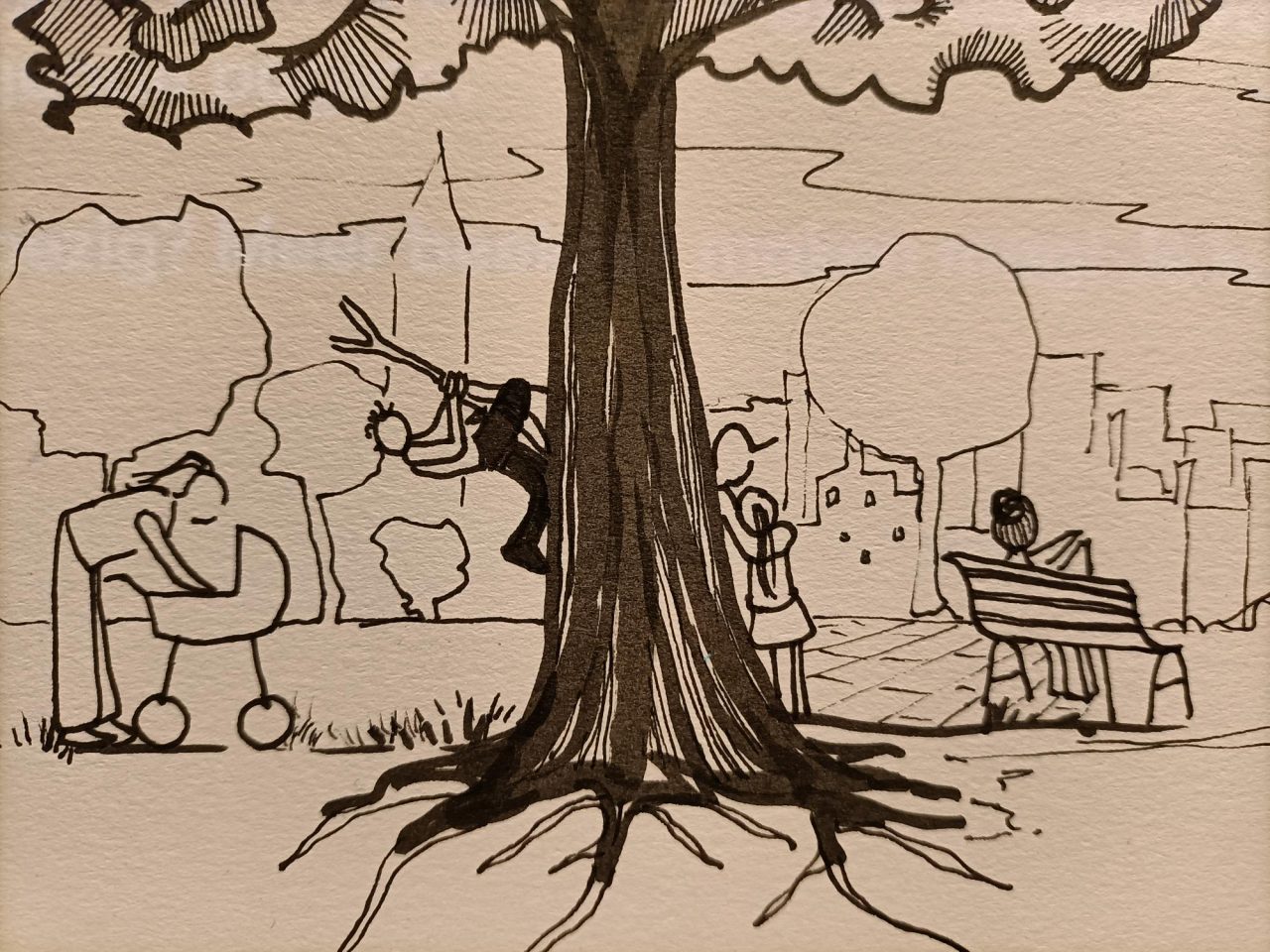 Tekenfilm Zonder Beeld
Bekijk hier wat er in de hoofden van het publiek gebeurde tijdens Tekenfilm Zonder Beeld.
Heb je de voorstelling ook gezien? Dan heb je misschien zelf beelden gemaakt in je hoofd.
Waren het foto's of filmbeelden? Kleuren of vormen? Heb je duidelijke figuren gezien, zoals mensen of dieren? Of zag je ook tekst in je hoofd?
Maak wat jij van binnen ziet zichtbaar voor iedereen en upload een foto van jouw 'beeld'.